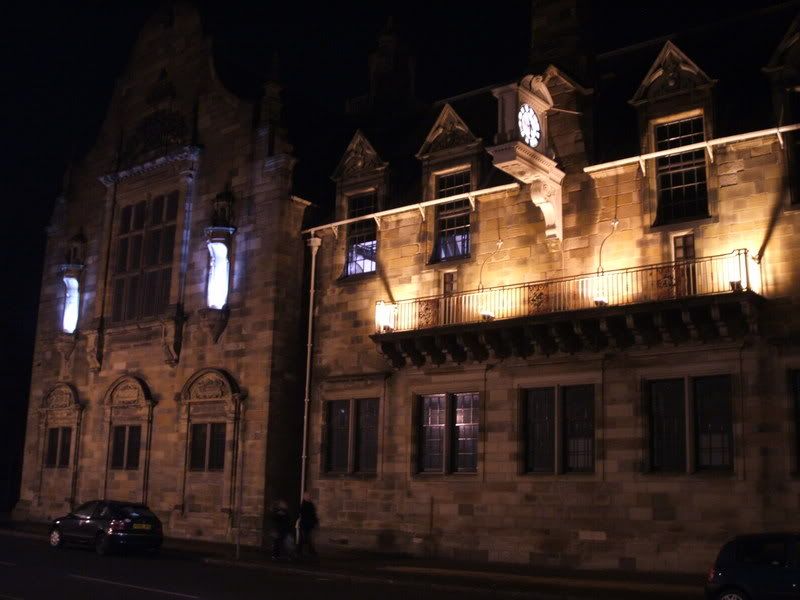 Hoi Polloi's lassie gets married in the P.I.
Beautiful venue; beautiful, beautiful bride.
A chill November day is cheered by a wintry wedding in Govan's Pearce Institute.
All the family set off walking along Govan Road to arrive just before the appointed time. We know, of course, that the bride will be a little late and so, time it nicely.
Out in the street, shoppers cast glances at guests arriving in their wedding finery and a few stop to watch the Bride and her attendants enter through the glass door and into the foyer of green glazed tiles. Last minute touches ensure she is picture perfect.
Upstairs, we await her arrival in the lovely Lithgow Room with its wooden panelled walls and vaulted ceiling. "Welcome" is the inscription below the mantel of the fireplace and glowing candles flicker among the green ivy festooned along the dado rail.
A violinist leads the Bride to the Groom where they are joined in holy matrimony by the Bishop of the Isles. The guests sing with gusto; he says "I do" and so does she, the wedding party sign the register, and the fiddler leads us downstairs to the wedding feast in the magnificent MacLeod Hall.
Everyone eats and drinks their fill and then it's the speeches and the cutting of the cake. The band strikes up and the newly weds take the floor, followed by the parents, best man and bridesmaids. On next to an evening ceilidh, with plenty of dancing and wedding hospitality.
The night time air is freezing, but we saunter along the road back home, taking time to talk over the day, who we saw and what we heard.
"Lang may yer lum reek, Mr and Mrs W."